Scott Waites made it second time lucky as he came from 8-0 down to beat James Wade 16-12 and win the Daily Mirror Grand Slam of Darts in Wolverhampton, 12 months after losing in the final.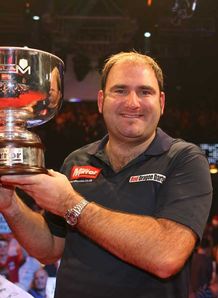 Waites made it into the final last year in Wolverhampton, and it looked like he would be on the wrong end of the result again as left-hander Wade stormed into an 8-0 lead and was cruising towards the £100,000 title.
However, the Yorkshireman showed a huge amount of grit and determination to come flying back and the world number two could not handle the pressure as he crumbled to defeat despite holding vastly more experience of the big finals.
Waites, a joiner from Halifax, will return to his day job at 8am on Monday, despite having left Wolverhampton £100,000 richer following a brilliant week at the Grand Slam of Darts.
"It's absolutely incredible," said Waites. "When I went 8-0 down I just wanted to get back into the game and make the scoreline respectable.
Belief
"But when I got closer to James I started to believe I could win it – but it's not sunk in yet and probably won't for some time. It feels so good to be called the Grand Slam of Darts champion."
Despite Waites opening the match with a 180, the first of three in as many legs, it was Wade who made the early running, hitting double top to break in the first leg, a 107 finish in the third and a 110 checkout in leg five.
At 8-0 down, Waites finally got off the mark on double 12 and then hit a 180 and double 18 to break in the tenth, before taking the next three to pull back to 8-5.
Wade slowed the fightback with a 90 finish, only for Waites to hit double top in the next and a 13-darter before checking out 68 to incredibly reduce the gap to just one leg.
Clearly shaken, Wade missed three darts at double 12 in the next as Waites began a run of six successive legs which saw him grasp control, following up finishes of double 18 and double 16 with a superb 121 checkout to level.
Wade tried to battle back but Waites moved three legs clear, and he held his nerve superbly considering his lack of big-stage experience to claim the title after a stunning fightback.
"James' finishing was phenomenal from the start – I hit three 180s and was 3-0 down!" Waites added. "When I won a leg and then another and five on the bounce I thought 'I can get back in this game'.
"I had to keep plodding away and I didn't change my style. I started to hit my doubles straight away and the next thing I knew I was level.
"Then I got in front and just wanted to stay in front, and then I wanted to hold my throw and get to the winning double. To do a comeback like that in front of a live audience and on TV is unbelievable – I still can't believe it."
 taken fromm sky sports 22/11/10